If a Family Feud category was "Things People Do in Los Angeles," chances are the number one most common answer would be "Yoga".  Practicing yoga is as ubiquitous in L.A. as palm trees and traffic. Not only can visitors find nearly every type of traditional yoga in L.A., there's also a variety of very western, gimmicky classes such as yoga on stand up paddle boards, yoga with goats, and wine yoga.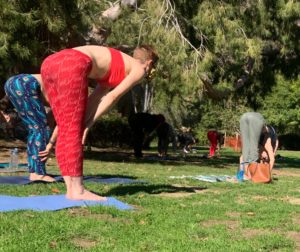 Despite the multitude of yoga options, one of the most popular and longest-running classes in Los Angeles is Runyon Canyon Yoga in Hollywood. Started in 1999 by Yogi Steve, the hour-long classes are held on the fenced-in lawn section near the Fuller Ave. entrance of Runyon Canyon. Though Runyon Canyon Park is extremely busy and not at all known for solitude, the yoga classes are quite peaceful.
Classes can be in the style of Hatha, Vinyasa, or Kundalini, depending on the instructor and they're taught at a beginner to intermediate pace. Daniel Overberger began sub-teaching for Yogi Steve in 2005 and he's the usual instructor to this day. Daniel has two teaching certificates from his studies in Mysore, India and teaches Vinyasa yoga with roots in Ashtanga but he's a very laid-back, easygoing teacher who makes classes lighthearted and makes poses adjustable.
To keep classes accessible, there's no set price to attend Runyon Canyon Yoga, it's donation-based. Since yoga classes in Los Angeles can often come with a lofty price tag, it's nice that there are still flexible options that are suitable to everyone. Students are expected to bring their own yoga mat, although some choose to go mat-free on the patchy lawn. Students should also bring cash, although Daniel offers Venmo and Paypal options too.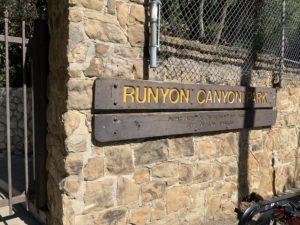 Classes are Mondays, Wednesdays, and Fridays (weather-permitting) at 10:30 am. Visitors should keep in mind that Runyon Canyon is always busy so parking can be difficult. Fortunately, since it's in the heart of Hollywood, public transportation is just a hop, skip, and a downward dog away.