A fun fact people like to share about the Capitol Records building is, "Did you know it's designed to look like a stack of records?" As the world's first circular office building, it's easy to draw that conclusion but it's incorrect.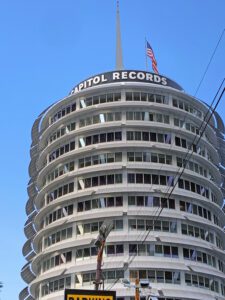 The iconic tower was designed by Welton Becket and Associates, with architect Louis Naidorf serving as lead designer. Naidorf himself said that if the building were home to an iHop, people would assume it was designed to look like a stack of pancakes. When Naidorf was drawing up the circular design, he wasn't yet aware it was intended to house a record label. The unique shape came about because it was simply a more cost-efficient design.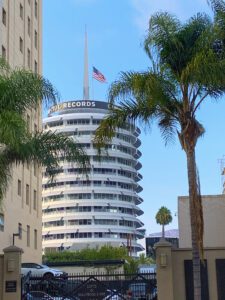 Located at 1750 Vine St., the 13-story tower was completed in 1956 and is a Los Angeles Historic-Cultural Monument. Music legends like Frank Sinatra, Nat King Cole, The Beach Boys, and the Wrecking Crew are among artists who recorded some of the most influential music in history inside this beloved landmark. The recording facility, Capitol Studios, includes three main studios as well as a notorious subterranean "echo chamber" engineered 30-feet underground by famed guitarist Les Paul.
Topping the building is a 90-foot rooftop spire with a blinking red light. Those who can decipher Morse Code may notice that the light continuously blinks H-O-L-L-Y-W-O-O-D, one letter at a time. Ornamental lights are wrapped around the spire at Christmastime to form a glowing red Christmas tree, the lighting of which is Hollywood's annual signal that the holidays have begun.
A vibrant mural featuring legendary jazz musicians Charlie Parker, Miles Davis, Ella Fitzgerald, and many more can be seen on the south exterior wall of Capitol Records. Commissioned by the Los Angeles Jazz Society, artist Richard Wyatt created the mural in 1990. It has since been restored and fired onto 2,288 hand-glazed ceramic tiles to ensure the mural's longevity.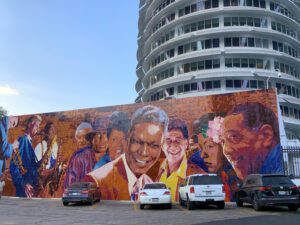 The building is also largely recognizable because it's frequently featured in film and TV. It can be spotted in Quentin Tarantino's Once Upon a Time in Hollywood, Independence Day, Mad Men, Lana del Rey's Doin' Time music video, and Grand Theft Auto V, to name just a few.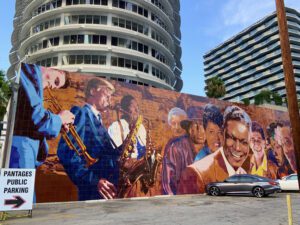 Along with the Pantages Theater, the Walk of Fame, and the Frolic Room, the Capitol Records building is part of what makes the intersection of Hollywood and Vine one of the most Instagram-worthy tourist attractions in L.A.
Discover more of the best of LA with our top 5 destinations. Perfect for a weekend visit to LA.