Motorists driving through the Cahuenga pass often notice a lone white cross atop the east side hill, looming over Hollywood, as if symbolically reminding the masses below that someone is always watching. It's the Hollywood Pilgrimage Memorial Monument and it stands 32 feet high, a mere 13 feet shorter than the iconic letters of the Hollywood sign.
The cross is on the registry of Historic Cultural Monuments and is now owned by The Church on the Way, an evangelical Pentecostal Christian denomination located in Van Nuys, CA. The cross was originally erected in 1923 in memory of Christine Wetherill Stevenson, an heiress and actress, who died the previous year. Stevenson owned the land the cross sits upon and she founded The Pilgrimage Theater, which is now the John Anson Ford Amphitheater, most commonly referred to as "The Ford".
Stevenson's wooden Pilgrimage Theater burned down in a brush fire in 1929 and was rebuilt on a grander scale. In 1931, the new theater, designed in the style of ancient Judaic architecture to resemble the gates of Jerusalem, opened its doors to the public. It was still called The Pilgrimage Theater until 1976 when it was renamed to honor John Anson Ford, the L.A. County Supervisor who made significant contributions to the Los Angeles arts scene.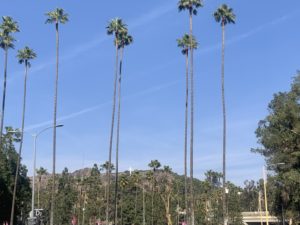 Though the theater was originally intended for plays, it now features a wide array of performances, most often music, sometimes dance and theater, sometimes film screenings. It's located at 2580 Cahuenga Boulevard East and its schedule is updated regularly.